"FB Enviromental was hired to help us prepare a watershed management plan for Lake Kanasatka. We could not have teamed up with a better partner. The FBE team with their expertise was a constant resource as we worked our way through the plan development. They were timely with all commitments and effectively met all deadlines. Due in large part to their efforts, we were able to complete our plan on time and on budget. We could not have done this without FBE. Their level of expertise, communication, direction and commitment to the project was essential. All members of their team were fully transparent as to the direction we were headed, and frankly just a joy to work with."
Tim Baker,
Lake Kanasatka Watershed Association and Lake Winnipesaukee Association
"Your identification and description of the streams, wetlands, forest, and soil types brings far greater clarity to what we have [at our property] than I have ever seen before."
Former US Rep. Tom Allen,
on FBE's Natural Resource Inventory
of his property in Maine
"FBE gave the best talk Iíve heard on how to implement actions to protect our lake. Iím so glad it was taped. I plan to make sure town committee members see the tape. FBE's presentation has given me the impetus to ensure that my granddaughter enjoys Spofford Lake as I do today!"
Pam Walton,
Chesterfield NH Conservation Commission and NH Lakes 2023 Lake Champion
"Thank you for the 2020 Salmon Falls River TMDL Monitoring Report. As usual, this is very well written and holds tremendous value when sharing with upper management as well as city council members. I personally reference the information provided within the report when allocating future funding for this project. This report makes that job easy."
Jamie L. Wood,
Chief Operator, Wastewater Division, City of Somersworth, NH
"The best part of joining my watershed assocation has been my collaboration with FB Environmental on so many of our projects. You've made it easy for me, a layperson, to understand and work with important and often technical ecological issues. Your knowledge, positive approach, and endless patience in explaining everything to me are so appreciated.
I look forward to much more collaboration as our work in preserving the Kezar Lake watershed moves forward."
Sara Cope,
Water Quality Coordinator,
Kezar Lake Watershed Assocation
"I want to say that FB Environmental was absolutely masterful at facilitating the discussion between the two planning boards. I truly believe that you laid an amazing foundation for moving forward and opened the lines of communication in a way I never thought possible. I am so energized and eager to see where it is going to go. Every voice was heard and respected in a way that I doubt they've ever experienced."
Linda Schier,
Executive Director,
Formerly with Acton Wakefield Watersheds Alliance
"I am very happy to have had the pleasure of working closely with Forrest Bell and his associates since 2000, while engaged in the development of watershed-based lake management-restoration projects throughout Maine. During this six-year period, our project-team managed to successfully complete over thirty, very well-prepared (state-of-the-science) TMDL-related nutrient control action plans which were all favorably received by the New England regional EPA office.
I highly recommend the services of FB Environmental for coastal and inland aquatic resource investigations pertaining to a wide breadth of watershed-based, applied GIS/land use related assessment and implementation projects. Simply stated, they do very good work in a highly efficient manner and have demonstrated the ability to continually evolve and find suitable answers to difficult questions!"
David Halliwell, PhD,
Maine Department of Environmental Protection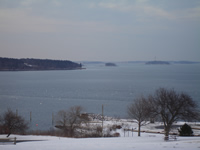 "It is with great pleasure that I recommend FB Environmental for ecological services. The services offered by FB Environmental bring a unique blend of professionalism and a high level of coordination and expertise in watershed management and planning. This combination of skills was well suited for work with the Maine Coastal Program and the Maine Healthy Beaches Program in assessing pollution sources. Their ability to respond quickly and provide information in a very short timeframe permitted the Maine Healthy Beaches Program to implement changes immediately. Their demonstrated ability to problem solve when posed with challenging situations makes them a step above the rest."
Todd Janeski,
Senior Planner

Formerly with the

Maine State Planning Office/

Maine Coastal Program
"I have worked with FB Environmental, and I have been pleased with their professionalism, technical expertise and commitment to a quality product. When it comes to watershed planning and restoration, water quality monitoring, project management and regulatory processes, they bring a high level of competence and creativity. They support these core services with excellent skills in data management, QA/QC procedures, and grant writing."
Jeffrey L. Edelstein,
P.E. Edelstein Associates
"Casco Bay Estuary Partnership has worked closely with FB Environmental over the last five years. Not only do they offer very strong technical capabilities but they are very good at working with multiple partners as a team. The collaborative approach to environmental work is one that CBEP highly values. In fostering these types of partnerships, they cast a wide net and often bring in less traditional resources such as volunteers, non-profits, and schools. This type of creativity is particularly helpful in a time of shrinking budgets, and serves a dual purpose of advancing education while achieving results. I have also been impressed by their creativity in initiating new projects in response to needs on the ground."
Karen Young,
Former Director

,

Casco Bay Estuary Partnership