Who We Are
Forrest Bell
FBE Owner & CEO
Forrest is the founder and owner of FB Environmental. In this capacity, he oversees all company operations. As Principal-In-Charge and a Project Manager on FBE projects, Forrest coordinates closely with clients and FBE project and task managers to ensure that the required capacity, optimal staff and associated skill sets, and other resources are available to support successful completion of project tasks.
Forrest is a regional leader in managing watershed restoration and assessment projects. He has directed more than 550 successful environmental planning, assessment, monitoring and restoration projects since 1991 for clients including federal and state natural resource agencies, municipalities, and non-profit organizations. Forrest founded FB Environmental in 2001 while assisting the Maine DEP with lake water quality assessments and impaired lake TMDL reporting, and has since developed a consulting team that includes several highly qualified environmental scientists and planners. Forrest is a skilled presenter and facilitator, embracing the challenge of presenting the complexities of land and water resources to New England's communities. Forrest received his BS in Geography from the University of Southern Maine and completed his Master's coursework at the University of New Hampshire in the Natural Resources Management program.
Laura Diemer
Project Manager/Monitoring Lead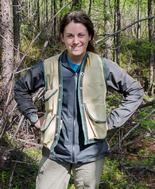 Laura rejoined our team of scientists in 2014 after starting with FBE in 2011 and leaving over a year later to complete an M.S. in Soil and Water Resource Management from the University of New Hampshire. Her research at UNH focused on understanding biogeochemical cycling of carbon and nutrients in fire-impacted, boreal streams of Central Siberia. She received a B.A. in Ecology and Environmental Science from the University of Maine in 2010 and gained valuable research and writing experience by assisting resource managers through the National Park Service, developing reports on organic waste management at New England Organics, conducting salt marsh water quality and vegetation monitoring at Wells National Estuarine Research Reserve, and developing conservation initiatives through The Nature Conservancy. At FB Environmental, Laura manages our lake and river water quality monitoring and assessment projects and supports our work in watershed planning, stream restoration, GIS mapping, nutrient loading modeling, wetland delineation, and climate change adaptability.

Kevin Ryan, PhD
Wetlands and Wildlife Ecologist/Ecological Services Lead
Kevin joined FB Environmental in March of 2013, shortly before finishing his Ph.D. in the Wildlife Ecology Department at the University of Maine. His research dealt with the movement patterns, terrestrial habitat selection, and conservation of New England's two rarest amphibians: the blue spotted salamander (Ambystoma laterale) and the eastern spadefoot toad (Scaphiopus holbrookii). Kevin earned an Associate's Degree in Fisheries and Wildlife Technology in 1999 and a Bachelor's Degree in Wildlife Management in 2001, both from SUNY Cobleskill. Kevin's experience includes monitoring loggerhead sea turtle (Caretta caretta) nesting for the Georgia DNR, and serving as field herpetologist, budget manager, and general office manager for the Wildlife Conservation Society's Metropolitan Conservation Alliance. At FB Environmental, Kevin conducts natural resources inventories, wetland delineations, reptile and amphibian field surveys, municipal build-out analyses, and assists with water quality monitoring projects, watershed/open space planning, technical writing, and GIS mapping.
Richard Brereton, PhD
Project Manager/Permitting Division Lead
Rich joined FB Environmental in 2017 after completing his Ph.D. in Earth and Environmental Science from the University of New Hampshire. He has extensive experience leading scientific and environmental inquiry in the field. Rich has published articles in peer-reviewed journals, taught graduate and undergraduate courses, and led research and environmental stewardship projects in a variety of environments. At FBE, Rich leads the Land and Water Permitting Division and manages permitting efforts for private and public projects. He also oversees several watershed management and water quality projects requiring GIS and water quality data collection, data management and analysis, and hydrologic modeling. Rich's primary expertise is in building relationships with stakeholders and collaboratively guiding projects toward state, federal, and municipal regulatory compliance.
Margaret Mills (Burns)
Hydrologist/Watershed Management and Community Planning Lead
Margaret Mills joined FB Environmental in 2015. She has a B.S. in Ecology and Environmental Sciences from the University of Maine at Orono and a Master's Degree in Geography with a concentration in Hydrology from the University of Colorado, Boulder. At Colorado, she used fluorescence spectroscopy to identify changes in dissolved organic carbon cycling during snowmelt. In 2011, she completed an internship at the Hubbard Brook Experimental Forest in NH. She returned to Hubbard Brook research after completing her graduate work to work on a collaborative project examining nitrogen cycling in a forested watershed. Margaret is an important addition to the FB Environmental staff, where she contributes to projects involving lake and stream water quality monitoring, climate change, GIS mapping, and hydrologic flow analysis.
David Santillo, PhD
Senior Ecologist
Dr. Santillo has over 35 years experience conducting ecological investigations throughout the Americas, with expertise in the northeastern United States, and in the comprehensive analysis of environmental impact and mitigation measures at both the state and federal level. He has performed hundreds of ecological and wetlands studies, and prepared large numbers of habitat mitigation and restoration plans. Specific areas of expertise include wetland delineation, ecological assessment and restoration, plant identification and community mapping, and wildlife surveys, including extensive targeted surveys for rare, threatened, and endangered species. Additionally, he has provided expert testimony for wetlands and ecological impacts of energy development projects on behalf of private, governmental, and non-governmental organizations. David serves as a Senior Ecologist for FBE on many types of projects including plant surveys, wetland delineations, wildlife surveys, and habitat assessments.
Cayce Dalton
Project Manager
Cayce joined FB Environmental in 2008, having received a B.S. in Environmental Science with a minor in economics from the College of William and Mary, and worked in the environmental sciences for seven years. In positions with the Maine Conservation Corps, Wells National Estuarine Research Reserve, and the Town of York, he worked closely with volunteers and citizens to track sources of bacterial pollution, measure salt marsh eutrophication, draft and enforce municipal environmental ordinances, and conduct outreach and education on a wide variety of environmental issues. At FB Environmental, he conducts GIS mapping, lake nutrient modeling, pollution load reduction, stream and lake monitoring using data sondes and equipment, and technical writing.
Antonia Sohns, PhD
Climate Change Resiliency Specialist
Antonia joined FB Environmental in 2019 as the Climate Change and Resiliency Division co-lead and project manager. Her PhD research at McGill University used qualitative and quantitative methods to examine what factors influence drinking water access in Arctic households. Her fieldwork focused on water security in Alaska. Before her doctoral degree, Antonia was a water and energy analyst/consultant at the World Bank in Washington D.C. and an intern at the White House under President Obama. She has an MSc in Water Science, Policy and Management from the University of Oxford where she studied how energy companies recycle produced water in hydraulic fracturing operations on the Pinedale Anticline in Wyoming, and a BS in Earth Systems, Oceans track from Stanford University where she researched cancer clusters along the Mississippi River in Louisiana, and phytoplankton populations aboard the Robert C Seamans in the Pacific Ocean. Her work at FB Environmental focuses on climate change impacts, community resiliency and adaptation, climate change monitoring, and stakeholder engagement.
Deborah Mayo
Administrative Manager/Project Assistant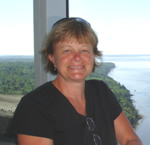 Deb joined FB Environmental in 2007 to assist with project administration in the Portland office where she provides exceptional client and business management support. Her background in Human Resources accentuates her role as Office Manager and administrative support for staff. Deb was formerly the District Manager for the York County Soil and Water Conservation District where she gained considerable natural resource assessment and restoration experience. Deb provides assistance to FBE staff for lake and stream monitoring and has been involved in several area watershed surveys as a technical leader assessing waterfront properties for stormwater management and erosion control needs and implementation of Best Management Practices.
Cameron Twombly, EIT
Project Scientist/Engineer
Cameron joined FB Environmental in March of 2020. He has a B.S. in Environmental Science from the University of New Hampshire and a M.S. in Civil and Environmental Engineering from the University of Vermont. Cameronís masterís degree focused on designing agroecosystems that do not degrade water quality. His work evaluated the effectiveness of commonly used agricultural Best Management Practices (BMPs) and hydrologic models. Cameron has experience in water quality monitoring, agricultural hydrology, and green stormwater infrastructure. At FBE, Cameron assists with fieldwork, management of project tasks, technical and permit writing, and engineering work such as BMP installation oversight.
Maggie Kelly
Project Scientist II
Maggie joined FB Environmental Associates in 2018 with a B.S. in Conservation Biology from St. Lawrence University. At FBE, Maggie assists with watershed planning and implementation efforts, water quality monitoring, data synthesis and analysis, pollutant load modeling, trail assessments, land-use analysis, marine industry outreach and data collection, and technical writing. She also provides Geographic Information Systems (GIS) mapping and analysis for many of FBE's projects, including build-out analyses for watershed planning and spatial data analyses and synthesis for municipal planning efforts. Maggie gained experience with watershed protection working previously for Squam Lakes Association, monitoring water quality and removing aquatic invasive plants.
Sarah Large
Wetland and Water Resource Scientist
Sarah joined FB Environmental in 2021 with five years of experience at the New Hampshire Department of Transportation's Bureau of Environment, where as a Wetlands Program Analyst she conducted wetland delineations and wetland permitting. She received a Bachelor's Degree in Environmental Studies with a focus in Ecology, and double majored in Physics, from Colby College in 2014 where she gained valuable research and writing skills through her liberal arts education and through her senior capstone project researching the fluvial geomorphology and health of headwater streams within the Belgrade Lakes Watershed. At FB Environmental, Sarah uses her wetlands and water quality skills on a wide variety of projects including wetland delineations, stream crossing assessments, natural resource inventories, water quality monitoring and data analysis, technical writing, GIS mapping, and natural resource permitting.
Christine Bunyon
Project Scientist II
Christine joined FB Environmental in April of 2018, after graduating early from the University of New Hampshire with a B.S. in Environmental Conservation and Sustainability. Christine has worked as laboratory research technician in both a water microbiology and toxicology lab, as well as a soil microbial ecology lab, and has participated in field and research projects ranging from source tracking fecal pathogens in the Oyster River, NH, to a long term population survey of Hochstetterís frogs (Leiopelma hochstetteri) in New Zealand. At FB Environmental, Christine assists project managers with fieldwork and project task completion, including water quality sampling, data sonde deployment and maintenance, data organization and analyses, GIS mapping, land-use modeling, and technical writing.
Luke Frankel
Project Scientist II
Luke joined FB Environmental in July of 2021. He has a B.A. in Earth and Oceanographic Science from Bowdoin College and will be obtaining his M.S. in Marine Science from the Virginia Institute of Marine Science at William & Mary in August. His master's research focused on evaluating the efficacy of past nutrient management actions on water quality in the Chesapeake Bay, where he worked closely with colleagues at state and federal agencies to inform future monitoring and management efforts. Luke has experience in numerical modeling, water quality monitoring, and data analysis/visualization. At FB Environmental, Luke assists with estuarine monitoring and modeling, fieldwork, GIS mapping, and technical writing.