Projects
Moultonborough Natural Resource Inventory, Moultonborough, NH
FB Environmental conducted a town-wide natural resource inventory for the Town of Moultonborough, New Hampshire. Project tasks included mapping and describing natural resource information and modeling the co-occurrence of important natural resource features to identify the most resource-rich areas within the town. FBE previously conducted a build-out analysis for Moultonborough, which identified environmentally constrained, non-buildable areas and buildable areas throughout the town. Overlaying the buildable area layer created as part of the build-out in conjunction with the areas identified during the co-occurrence modeling facilitated the identification of developable portions of Moultonborough best-suited for conservation versus those that are better-suited for development.
East Point Sanctuary Invasive Species Restoration, Biddeford Pool, ME
FBE and the Southern Maine Conservation Collaborative (SMCC) have been working with Maine Audubon to restore a 3.5 acre easement within the East Point Sanctuary, a property owned by Maine Audubon situated at the northeastern tip of Biddeford Pool, Maine. Under natural conditions the area would be a Rose Maritime Shrubland; however, dense, mostly non-native invasive vegetation currently dominates the area. FBE coordinated both permitting and stakeholder involvement with the project and partnered with Vegetation Control Service, Inc. to control the invasive plants with the goal of restoring native plant dominance. Invasive vegetation control was accomplished in 2015 through the implementation of both mechanical and chemical methods (i.e., selective herbicide application).
Broad Cove Reserve Natural Resource Inventory, Cumberland, ME
FBE recently conducted a Natural Resource Inventory (NRI) on a 104-acre coastal parcel in Cumberland, ME. The purpose of the NRI was to evaluate the property's scenic and natural resources with the consideration that the uses of the property will change significantly due to its impending subdivision and development. FBE staff conducted a thorough review of existing information on the property and carried out a landscape analysis using GIS software. A field survey was then conducted to further evaluate the site and gather additional information. The resulting NRI provides a concise synthesis of relevant information about the property and contains specific development and management recommendations to minimize any potential deleterious effects of the future development.
Riverside Golf Course, Portland, ME
FBE has been assisting Portland's Riverside Golf Course with several projects in recent years. In 2013, the City of Portland, FB Environmental, and Woodard & Curran worked together to implement a buffer planting for Dole Brook, an impaired stream which traverses the golf course. Over 400 shrubs and flowering perennials were planted along a 1,100-foot section of the brook which flows through the course's 17th fairway. As a result of the planting, a 25-foot no-mow zone now exists around the restored portion of Dole Brook. The now thriving buffer provides multiple benefits to the brook, namely improved water quality from reduced sediment loads and nutrient inputs from adjacent cart paths and fairways, and stabilized stream banks.
FBE is also conducting monitoring and reporting regarding a novel method of pest management currently being implemented by the course superintendent. The facility's North Course (eighteen holes), South Course (nine holes), and Practice Course (three holes) have traditionally received pesticide applications on an annual basis. In an effort to reduce the total amount of pesticides applied per year, the 27 holes of the North and South Courses are being subjected to the new method of application. Only nine holes will receive pesticide treatment per year. That is, groups of nine holes will be on a three-year rotation – one year receiving treatment and two years of no treatment.
Overall, FBE's role in this project is to act as a neutral third party observer and systematically document the presence of plant and insect pests, specifically dandelion (Taraxacum spp.), plantain (Plantago spp.), clover (Trifolium spp.), crabgrass (Digitaria spp.) and Japanese beetle (Popillia japonica) grubs. Infestation locations are being documented using a GPS; information accompanying location data includes spatial distribution and percent areal cover. The project was initiated in 2016 and is planned to run for at least six years.
Riverside Golf Course is also seeking certification through the Audubon International's Cooperative Sanctuary Program for Golf Courses. The program helps golf courses implement and promote sound environmental conservation practices while preserving the heritage of the game of golf. Meeting certification requirements enhances natural areas and wildlife habitats that golf courses provide, improves efficiency, and minimizes potentially harmful impacts of golf course operations. FBE is providing the technical expertise necessary to facilitate certification attainment for the course.
Historical Development and Conservation Lands Build-Out Analysis, Lovell, ME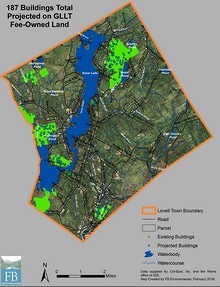 In 2016, FBE completed an analysis of historical land development in Lovell, Maine, from 1968-present. The project involved using historical and current aerial imagery to assess the number of principal-use buildings within the Town in 1968 versus present day, and based on current zoning how many buildings may be built in the future. The analysis has a specific focus on the 2,500 acres of land purchased over time by the Greater Lovell Land Trust (GLLT). A major goal of the project was to determine how much GLLT land is "buildable" and how many buildings could have been built on those lands based on current development constraints.
Pleasant Hill Preserve Natural Resource Inventory, Scarborough, ME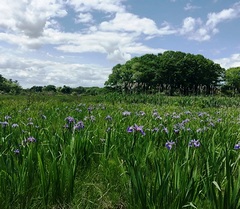 FBE completed a Natural Resources Inventory (NRI) for the Scarborough Land Trust's (SLT) Pleasant Hill Preserve, a 135-acre former farm. The preserve is part of a conservation corridor from the Spurwink River in Cape Elizabeth to the Libby River in Scarborough. SLT purchased the land to permanently conserve it for scenic views, wildlife habitat, and low-impact public recreation. The preserve includes wetlands, open fields, and patches of mature forest. Wetlands are particularly extensive, with one complex encompassing just over one-third of the property. As part of the NRI, FBE classified and mapped the terrestrial and wetland communities on the preserve, developed a list of vascular plants (including non-native invasive species), identified noteworthy natural features, and documented wildlife signs and sightings.
Brox Property Natural Resource Inventory, Milford, NH
The Town of Milford Conservation Commission hired FBE in October 2014 to develop a Natural Resources Inventory (NRI) report for the Brox Property. The goal of the NRI report was to provide a current inventory and evaluation of important natural resource features, and to identify areas that may be sensitive to future development or changes in land use. This NRI described priority areas for conservation at the Brox property, and provided recommendations for maintaining its ecological integrity.
Odiorne Point State Park Invasive Species Inventory, Rye, NH
Odiorne Point State Park, located in Rye, NH, is the largest undeveloped stretch of coastline on New Hampshire's 18 mile coast. In 2008, FBE was hired to conduct a comprehensive inventory of invasive plants within the 334 acre state park, which has been virtually consumed by invasive upland plants following military establishment during World War II. These plants include oriental bittersweet (Celastrus orbiculatus), glossy buckthorn (Frangula alnus), and multiflora rose (Rosa multiflora). A local steering committee consisting of state park staff and the New Hampshire Department of Environmental Services (DES) prioritized 15 parcels for the survey.
The key components of this project included: 1) GPS mapping of invasive species within high priority parcels throughout the park; 2) archaeological sensitivity analysis to assist with future permitting and to further knowledge about the history of the park; 3) development of an Invasive Plant Control Plan which sets goals for eliminating invasive species, and preserving native species, communities and ecosystems, and 4) implementation of a site-specific Invasive Plant Control Plan for a 2.5 acre coastal forest community within the park.
The project concluded in 2010 with a comprehensive management plan including recommendations for both short and long-term invasive and native plant management practices. Recommendations included a monitoring program, providing educational opportunities about invasive species to the public, and re-vegetating native plants.